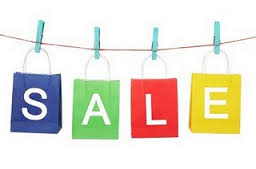 The month of June is an exciting time for savvy shoppers, with 50-80% off most items in the stock take sales!  You can find amazing bargains across all brands and save huge $'s!  For most people this brings a great feeling of satisfaction, however for some, it can end up a burden because they have bought something purely because it was on sale, rather than ensuring it was the right garment for them.  So here are a few tips to make sure you get lots of bargains and avoid the burdens.
Review your wardrobe and see what pieces are missing. e.g. A great jacket to mix and match with your dresses, skirts & pants
Replace old, worn out favourites with new, to look polished and presentable
Create a shopping list and DON'T deviate, unless you see an item that you have tried on previously or know it's the perfect colour & style for you
Ensure every item you buy fits well, the colour compliments your complexion and the style suits your body shape and personality.
Ideally you want new garments to co-ordinate with at least 2-3 other pieces in your existing wardrobe, to create more versatile outfits
Make sure you are well hydrated and have eaten before shopping.  Take little breaks if you need to re-energise, or think about an item before buying
Happy shopping and I hope you find lots of BARGAINS and avoid the BURDENS!
If you find shopping daunting and unsure what styles and colours suit you, an Image Consultant will be able to save you time and money, by showing you how to shop for styles that suit your figure and what colours are perfect for your complexion.